Global Business: Uber offloads driverless cars arm, Brexit movement
"You've got to be optimistic, you've got to believe there's the power of sweet reason to get this thing over the line. But I've got to tell you, it's looking very, very difficult at the moment." 
That was UK Prime Minister Boris Johnson's assessment of the state of EU/UK trade talks on Tuesday.   
The agonizing countdown to the Brexit transition end date appears to have gained some respite, with the news that the UK government is to drop some of the most controversial parts of its planned legislation for exiting the European Union. The agreement over the two bills related to taxation and the internal market offers progress on the thorny issue of the Northern Ireland border. However, wider Brexit negotiations remain on a knife edge, with Johnson heading to Brussels later this week for make-or-break talks with European Commission President Ursula von der Leyen.
The move towards fully automated vehicles on the roads has suffered a setback with the news that Uber is selling its driverless car division to a Silicon Valley start-up. The ride-hailing firm had been leading the race to the driverless car society by seeking to develop its own bespoke fleet, but instead it's now selling off the business at a discount.
Airbnb and Tesla shares are both gaining momentum ahead of planned stock market floats. With a fresh share issuance, Tesla looks set to build on the market breakthrough it made earlier this year when it became the world's most valuable car maker, overtaking Japan's Toyota, after its stock hit a record high – that's despite Tesla making a fraction of the vehicles of any of its main rivals. 
And Goldman Sachs has become the first Wall Street bank to seek full ownership of its securities operation in China as the market opens up to greater foreign involvement. It wants regulatory clearance to buy out the remaining share of its Chinese subsidiary, with a view to expanding its asset management business in the country. Other lofty names in U.S. finance look set to follow.
Mass vaccination is under way in the UK after the fast-track approval of Pfizer and BioNTech's breakthrough treatment. However, the picture across Europe of potential take-up rate of vaccines looks mixed. CGTN reports from Spain where only half of those surveyed say they would be willing to take the jab.
And as Norwegian Air seeks to restructure its business after being granted a period of grace by the High Court in Ireland, CGTN Europe speaks to aviation observers about what's gone wrong for the low-cost airline that seemed to have discount transatlantic routes wrapped up.
Happy reading, 
Louise Greenwood
Digital news producer 
P.S. Did someone forward this to you? Sign up here

UK Prime Minister Boris Johnson is heading for Brexit talks in Brussels. /Reuters/Simon Dawson
UK Prime Minister Boris Johnson is heading for Brexit talks in Brussels. /Reuters/Simon Dawson
The UK government is to drop parts of its planned Brexit legislation, that could have led to a breach of international law, after reaching an "agreement in principle" with the European Union. After talks between ministers, Downing Street said it would withdraw the most controversial parts of its Taxation and Internal Market bills that would have given it powers to unilaterally overwrite the treaty. The proposal leaves Northern Ireland enforcing the EU customs code, but avoids a hard border with the Republic of Ireland. Checks on goods crossing the Irish Sea into Northern Ireland will begin from January 1, despite warnings from farmers and food suppliers about the potential disruption to trade.  
However, discussions are separate from the ongoing negotiations on a UK/EU trade deal – which are deadlocked ahead of the Brexit transition end date of Dec 31. UK Prime Minister Boris Johnson is to travel to Brussels for make-or-break talks with European Commission President Ursula von der Leyen this week. Speaking to reporters, Johnson warned: "It's looking very, very difficult at the moment." As he spoke, the pound fell for the third consecutive day, entering its longest losing streak since mid-October. Senior aides warn that there has been "no tangible progress" in recent days, with major sticking points in the areas of fisheries, corporate governance and state aid for key British industries post Brexit. It's understood the summit could take place on Wednesday, a day ahead of the next European Council meeting. 
Employers in Europe are the least optimistic globally about the jobs market in 2021, according to new figures. The survey by the recruitment firm Manpower has found that most European firms estimate staff hiring is unlikely to return to pre-pandemic levels before next October at the earliest. The most optimistic outlook has been reported in Greece, Turkey and Germany, while employers in the UK, Switzerland and Austria were the most downbeat about the employment outlook. 
UK retail sales fell again last month as the second national lockdown saw all but essential shops closed to customers. The British Retail Consortium said year-on-year total retail sales growth slowed to 0.9 percent in November, down from 4.9 percent in October. Britain's economy shrank by a record 20 percent during the three months to June, the period covering most of the first lockdown.
Uber is selling its driverless car division to a Silicon Valley start-up, in a move that marks the end of its plans to develop its own autonomous vehicles. The ride-hailing firm will instead maintain a $400 million minority stake in Aurora, an Amazon-backed start-up, which is to buy Uber's Advanced Technologies Group (ATG), for a reported $4 billion. Uber had planned to lead the race to driverless by developing its own fleet of vehicles, but suffered a setback after a fatal accident involving one of its test models in Arizona in 2018. 
Meanwhile U.S. electric car giant Tesla has launched plans for another share issuance that could net the Palo Alto firm another $5 billion in capital. It's the second such move by Tesla in three months, pushing its market capitalization above $600 billion, ahead of rivals Toyota, Volkswagen and General Motors. The S&P Dow Jones Indices said late last month that Tesla would be added to the S&P 500, making it one of the most valuable companies ever to join the index.
Shares in Airbnb have risen ahead of its planned initial public offering later this week. The San Francisco-based home-sharing company is expected to issue a final share price late on Wednesday before its debut on the Nasdaq, which could now come in at $42 billion. In a government filing in the U.S. on Monday, Airbnb said it expects to price its shares between $56 and $60 each, up from a range of $44 to $50 earlier this month. Airbnb cut about 1,900 jobs earlier this year, ending several non-core projects, as the pandemic hit but posted a surprise jump in profits in the third quarter. 
Goldman Sachs is seeking to take full ownership of its securities operation in China, as market liberalization opens the doors to greater foreign investment. The U.S. bank is seeking regulatory clearance to take full control of its Goldman Sachs Gao Hua subsidiary. The deal to buy the outstanding 49 percent share would effectively end the bank's 17-year collaboration with Beijing's Gao Hua Securities and allow for expansive growth in its asset and wealth management operation in China. Rival JPMorgan Chase is also in talks to take full ownership of its futures venture in the country.
China's trade surplus soared to a record $75.4 billion last month as exports surged by a fifth on last year, amid strong demand from the U.S.. Exports rose 46 percent to $268 billion as the Chinese economy emerged from lockdown conditions earlier than expected. 
Shares in Chinese health and pharma giant JD Health rose by 75 percent on their trading debut in Hong Kong. The company, which is the healthcare arm of e-commerce giant JD.com, raised $3.5bn in the biggest initial public offering on the Hong Kong exchange this year, with demand from investors heavily outstripping supply. The company sold 339 million shares at $9.11 each, giving the company a market capitalization of about $44bn.
A Russian bitcoin expert has been sentenced to five years in prison by a Paris court for money laundering, and has been ordered to pay $120,000 in fines. Alexander Vinnik, who had denied wrongdoing, was acquitted of charges of extortion and association with a criminal enterprise after he was accused of being the mastermind of a $160 million fraud campaign using ransomware and Bitcoin. Vinnik, who is also facing similar charges in the U.S. and Russia, is considering an appeal.

WATCH: Studies have found that people living in Europe are more reluctant to be vaccinated against COVID-19 than people living in the rest of the world.
The troubled airline Norwegian Air has been granted more time to restructure its massive debts by Ireland's High Court. Last month, Norwegian applied for an equivalent to bankruptcy protection after revenues slumped in the COVID-19 pandemic. Norwegian Air fortunes collapsed rapidly after growing to become Europe's third-largest low-cost airline and the biggest foreign carrier serving New York. By the end of September, its debt and liabilities stood at $7.7 billion. 
CGTN Europe was joined by Marc Ivaldi, professor at the Toulouse School of Economics and president of the International Transportation Economics Association to discuss what's gone wrong. 
They tried to adapt to the low-cost model for the transatlantic market. But on these markets, the costs are higher and then it's very difficult to be profitable. And to be profitable, you need a large demand and, of course, right now there is no demand for this market. 
So are you saying the airline was doomed from the start, applying that no-frills model to long-haul flights? Or has the pandemic been what's really knocked it off course? 
Well, I think that it would have been very difficult to maintain [its business model] in this market, and I think that COVID has just accelerated this. I mean, it doesn't seem the low-cost model can hold on to the long, long route. We had a good example iN Ryanair. I mean, Ryanair Has deep pockets. Although there is a pandemic, it is probably the only airline in Europe that is still making a profit. 
So if Norwegian folds, what's that going to mean for jobs and for the sector in general? 
Well, I think the idea is, in fact, to get rid of the transatlantic business and to then sell the aircraft. The idea is to save it, but at a much lower size and it seems that from 10,000 employees, there are going to be around 1,000, something like that. So it means a lot of layoffs. On the second part of your question, on what it is going to mean for the future of the industry? If traffic was at the level before COVID, I think there is enough space for several low-cost European airlines, there is room for Norwegian, but it will take a bit of time before there is a complete recovery.   
European tech start-ups have bounced back from the COVID-19 gloom in 2020 and are on course to raise a record $41 billion this year, according to new data. The amount of venture capital cash going into the sector has risen three-fold in the past five years, according to the investment group Atomico. Music streaming service Spotify and the payments firm Adyen head the list of Europe's most successful tech start-ups to date, with stock market valuations about $50 billion, with a host of competitors now snapping at their heels.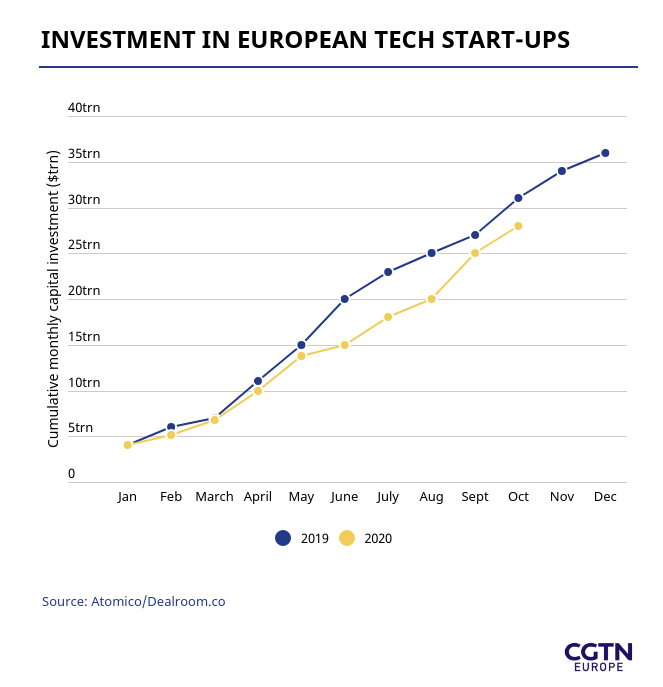 Source(s): Reuters