Media Bites 2 Dec: Dairy inflation, Stockpiling, Shop prices | News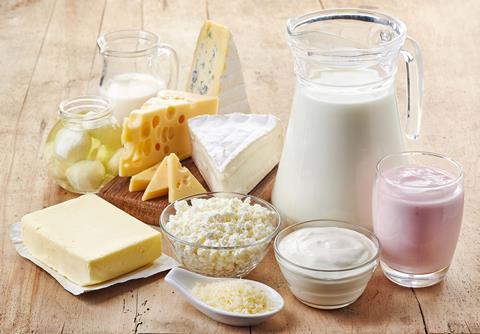 The head of the UK's largest dairy farmers' co-operative has warned that prices may rise sharply in the event of a "no-deal" Brexit. Arla's UK boss told the BBC that if the UK could not strike a free trade deal with the EU, tariffs could add as much as 30% to their prices. (The BBC)
A rise in Brexit-related stockpiling helped the manufacturing sector to grow last month at its fastest pace in almost three years, a closely watched survey suggests (The Times £). Stockpiling ahead of the Brexit transition deadline prompted activity in Britain's manufacturing sector to rise at the fastest pace for nearly three years in November, the results of a closely-watched economic survey have revealed (The Daily Mail).
Shops are slashing their prices in the run-up to Christmas amid a crisis on Britain's high streets, a report has found (Sky News). Shop prices are falling in the run-up to Christmas as retailers race to clear stock amid a "deepening" High Street crisis, a report has said (The BBC).
Caffe Nero's rescue deal faces a legal challenge from landlords after bosses rejected a late takeover approach from the billionaire Issa brothers (The Daily Mail). Caffè Nero could face a legal challenge despite winning backing from creditors to pursue a company voluntary arrangement (The Times £).
Guilt-free meat has moved closer to consumer reality after Singapore became the first country to approve a lab-grown product (The Financial Times £). Singapore has given regulatory approval for the world's first "clean meat" that does not come from slaughtered animals (The BBC).
Debenhams is on course to be liquidated in the new year with the probable loss of more than 12,000 jobs, bringing 200 years of retail history to an ignominious end and compounding the crisis on the UK high street (The Financial Times £). High streets have been plunged into further misery after Debenhams said that it would start winding down all of its stores (The Times £). The Debenhams department store chain is to be wound down after Christmas, with the loss of up to 12,000 jobs and closure of 124 stores in a new blow to the high street (The Guardian). Debenhams stores are set to close after the failure of last-ditch efforts to rescue the ailing store chain (The BBC).
Debenhams has collapsed into liquidation as Covid lays waste to British retail, leaving hundreds of suppliers facing losses of up to £229m and blowing a 14 million square foot hole in high streets across the country. (The Telegraph)
Coronavirus store closures may have been the final nail in the coffin for Debenhams but retail experts argue the department store chain never recovered from a brutal period in the hands of private equity. (The Guardian)
Bad news doesn't always shock, writes Alastair Osborne in The Times. "Debenhams was already in a "trading administration". Now it's even more bust: heading for liquidation, break-up and the likely closure of many of its 124 stores. Just a few hours, too, after Sir Philip "Effing" Green's Arcadia rag-bag keeled over." (The Times £)
The Mail's Alex Brummer writes that "Covid has shown us that Britain's creaky retail sector is in desperate need of repurposing". (The Daily Mail)
A fire sale by Debenhams is expected to fuel a "Wild Wednesday" rush on the high street today as most retailers reopen for the first time in a month. (The Times £)
Thousands of former and current staff of Arcadia face cuts to their expected pensions following the collapse of fashion retail group Arcadia. (The Financial Times £)
Foster's – the 'Australian for beer' around the world – will soon be introduced to Australians. The brewer of Australia's best known beer is set to relaunch a brand that's become foreign to many locals. (The Guardian)
Ghana and Ivory Coast have hit out at several big chocolate companies and traders including Mars, Hershey and Olam, accusing them of trying to circumvent a premium on cocoa meant to help fight farmer poverty in west Africa. (The Financial Times £)
Cyber Monday is set to become the biggest online shopping day ever for the United States, garnering up to $11.4bn as the coronavirus pandemic prompts consumers to stay home and turn to the internet for their holiday shopping needs. (The Guardian)
Any retailer that can withstand competition from Walmart, Amazon, Lidl and Aldi is worth a second look. Costco Wholesale, founded in 1976, has not just held its own against these formidable rivals but prospered throughout. (The Telegraph)