Stock Markets Today: Brexit Talks Continue; Trump's Huawei Move; TikTok M&A
Want the lowdown on what's moving European markets in your inbox every morning? Sign up here.
Good morning. Brexit trade talks enter a new round, the U.S.-China tech fight escalates, and a new bidder is interested in TikTok operations. Here's what's moving markets.
Round Six
A new round of talks to define Britain's post-Brexit trade relationship with the EU starts in Brussels today. After five rounds of formal negotiations, the U.K. and European Union are still far from reaching a comprehensive trade agreement. Britain and the bloc want to reach a deal before the negotiations are scheduled to conclude Oct. 2 — but, so far, neither has made adequate concessions for the other. There is little prospect of a breakthrough this week, said one EU official, who spoke on condition of anonymity. On Monday, the EU warned Britain's banks that they may not be able to quickly gain equivalence for access to the EU market, according to the Financial Times.
Angst Returns
Germany is looking at maintaining subsidies to protect jobs for longer as a spike in cases raises the specter of renewed restrictions on economic activity. In the U.K., employers are anxiously awaiting to see whether mounting pressure on Chancellor of the Exchequer Rishi Sunak will force him to reverse course on plans to phase out wage-support programs. In the U.S., meanwhile, Senate Republicans plan to introduce a scaled-back stimulus bill amid the standoff over a new virus relief plan that's dragged on for weeks, according to two Senate Republican aides. 
Clamp-Down
The U.S. announced further restrictions on Huawei Technologies Co. aimed at cutting the Chinese company's access to commercially available chips. The restrictions are likely to further hit both Huawei's 5G base stations and smartphone businesses because it relies heavily on foreign chips to make those, further denting China's ambition to play a key role in the global rollout of 5G technology. The move is the latest tit-for-tat in escalating tensions between Washington and Beijing over everything from the origins of the Covid-19 pandemic to China's increasingly tight grip over Hong Kong. Despite the U.S. decision, Commerce Secretary Wilbur Ross said on Fox Business that talks with China continue on various levels.
Player Three
Oracle Corp. is weighing a potential bid for part of TikTok's business, seeking to rival Microsoft Corp. in the race to acquire the viral video streaming app, according to people familiar with the matter. The company controlled by billionaire Larry Ellison is working with TikTok's U.S. investors including General Atlantic and Sequoia Capital to consider a bid for the app's operations in the U.S., Canada, Australia and New Zealand. President Donald Trump on Friday ordered ByteDance to sell its U.S. assets within 90 days.
Coming Up…
In another light day for corporate news, jeweler Pandora A/S forecast a sales decline of up to 20% this year. Online pet food retailer and lockdown winner Zooplus AG is set to release second-quarter results, and in today's U.K. earnings, John Wood Group Plc and Capita Plc are due to report. Danish health care firm Coloplast A/S's third-quarter results are due around mid-day. 
What We've Been Reading
This is what's caught our eye over the past 24 hours. 
And finally, here's what Cormac Mullen is interested in this morning
Investment-grade credit markets are suggesting the inability of U.S. stocks to break higher is justified and any further upside could be limited. Yield spreads of the lowest level of investment-grade debt to the highest-rated have stopped narrowing this month, even as unprecedented Federal Reserve liquidity measures help fuel record issuance in high-grade corporate bonds. The credit gauge, which covers the so-called powder keg sector most at risk of downgrade to junk status, is a good measure of investor appetite for risk in the corporate bond market. Meanwhile, the S&P 500 has continued to climb in August, pulling away from the credit gauge of risk. But for a third time in the past week, the stock benchmark rose above its February closing record during Monday's session, before ending below it. Given that the credit spreads have closely tracked equity prices since the pandemic, the S&P 500's divergence from them makes it look vulnerable.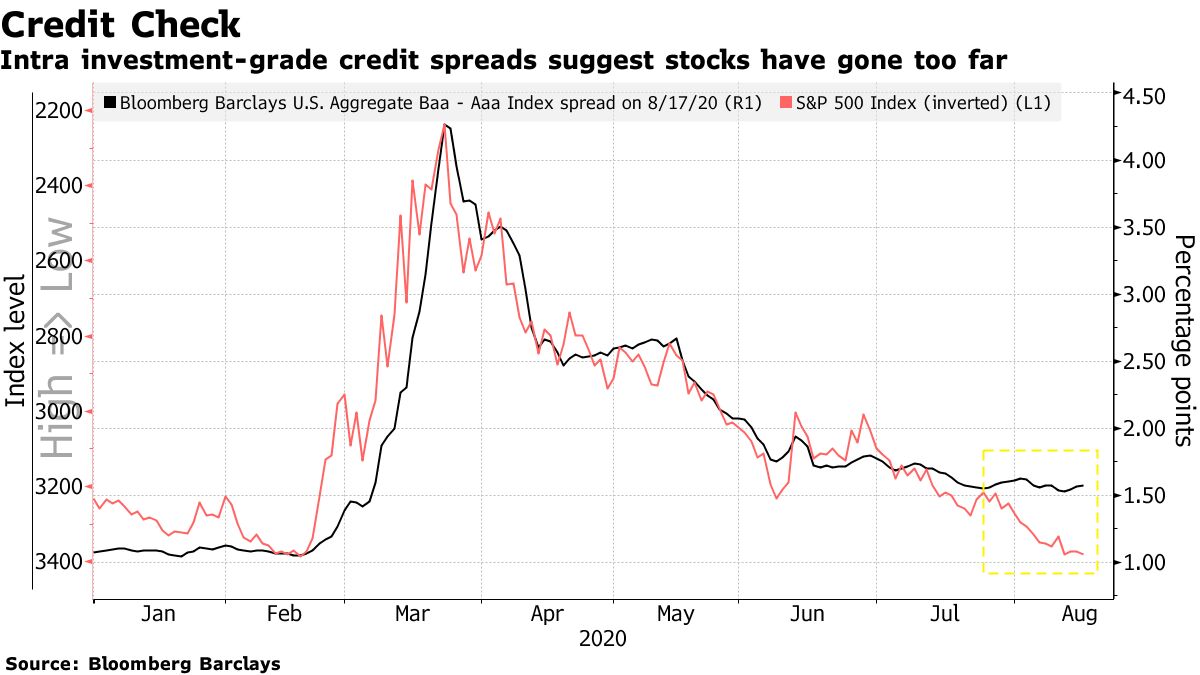 Cormac Mullen is a cross-asset reporter and editor for Bloomberg News in Tokyo.
Like Bloomberg's Five Things? Subscribe for unlimited access to trusted, data-based journalism in 120 countries around the world and gain expert analysis from exclusive daily newsletters, The Bloomberg Open and The Bloomberg Close.