News focus: Solicitors still missing scam red flags | News
In normal years, more than 1,000 COLPs and COFAs head to Birmingham for a day of being alerted to threats to their firms set out at the Solicitors Regulation Authority's annual compliance conference. This year the event was spread across 1,000 home offices and over five days, but the message was similarly uncompromising.
This year's agenda showed the SRA still sees complicity in, or being unwitting accomplices to, money laundering as the most serious threat firms face. That message was not new: solicitors must ask more questions about their clients and where they get their money from.
Mark Boyle, the SRA's policy lead on anti-money laundering (AML), said it is a myth that firms need only check whether a client has a UK bank account. 'You really need to be checking how did the person get their money, be it through salary, investment or gifts. It can be many legitimate means, but you need to understand that and be evidencing that,' he said.
The SRA says the number of money-laundering matters it deals with is increasing, with firms doing conveyancing work, handling client money and managing trusts most at risk.
As if to prove the point, on the day the SRA issued this warning, details were published of a £14,000 fine imposed on Northamptonshire firm Seatons Law Limited. The sanction related to three conveyancing matters from 2018 where insufficient checks were made. The firm admitted failing to perform adequate customer due diligence, failing to perform ongoing monitoring and failing to have an adequate AML policy in place.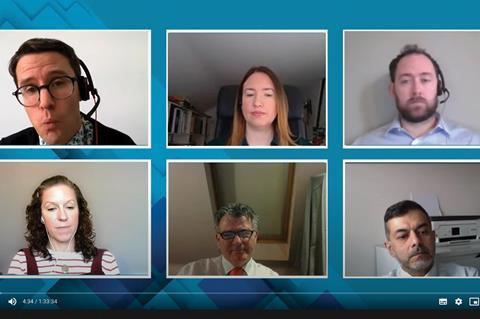 The SRA said Seatons failed to act upon 'red flag indicators' – including the firm being 'based in Northampton with clients based in Luton'. Given the two are just 36 miles apart, red flags may soon be waving on many a conveyancing transaction.
Plenty of other threats were outlined during the conference. Sean Hankin, the SRA's head of forensic investigation and intelligence, said the most common concern raised by auditors looking at law firm finances concerned residual balances, where client money has been untouched for some time.
Hankin said the regulator was not too concerned about this practice, so long as a firm had policies and procedures in place. 'We are more concerned where firms have large amounts of residual balances but don't have any plan to deal with them,' he said. 'That would pose a real risk.'
He added that the SRA had given 'some leeway' in allowing qualified reports to be submitted beyond the six-month deadline, given the current working restrictions, but noted this would not last forever.
Meanwhile solicitors are lending credibility to investment schemes that are proving to be a massive drain on the compensation fund. Such schemes have become more subtle than the diamond and carbon-credit frauds, and are more likely to involve property development that appears, on the surface, to be legitimate.
Jatinderpal Loyal, policy associate for the SRA, said 'huge numbers' of claims were coming in after vulnerable investors living abroad were targeted, although the compensation fund will only step in if the service provided by the solicitor could be described as 'usual business'.
'The amount of money being lost through these schemes is just unbelievable. It is really sad,' Loyal said.
While the conference's central message was largely about engaging as much as possible with the SRA, in one respect there was a plea to limit contact.
General counsel Juliet Oliver said obligations to report potential misconduct go 'beyond gossip or suspicion' and urged firms not to bombard the regulator with every concern.
Asked whether such obligations lead to unnecessary reports, Oliver said: 'We don't want to encourage defensive reporting. That is not in anyone's interests – it's not in your interests to feel like you have to act as a postbox and you are just passing matters through to us without any thought.
'[And] it is not in our interests for us to receive volumes of reports which would or could never lead to our taking regulatory action. We do want you to exercise your judgement to decide whether the issues engage with our rules.'
After a week of compliance conference by YouTube, officers will probably welcome the invitation not to speak with the SRA for a while at least.