Big Cuts Are Coming To Sell-Side Research
With the EU's MiFID II regulations set to launch in less than seven months (Jan. 3 2018), bulge-bracket investment banks are scrambling to comply.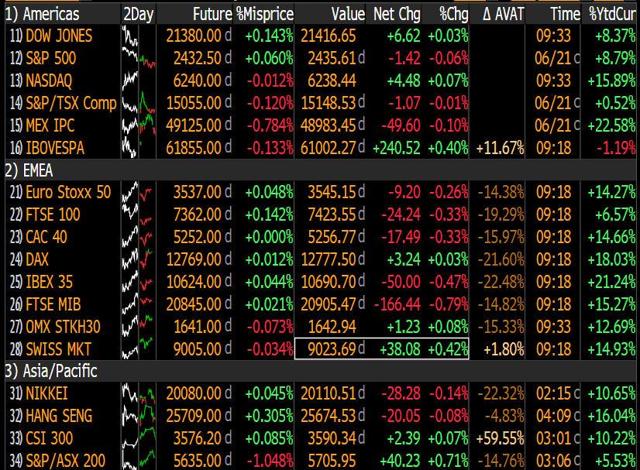 The fallout? They're going to need to figure out how to cut the cost of producing their equity and fixed-income research by 30% as clients become pickier about what they pay for, a report by McKinsey & Co. says.
Two to three global banking players will preserve their status in the new era, winning the execution arms race and dominating trading in equities around the globe. Over the coming five years, banks will need to make hard choices and play to their strengths. Not only will the top ranks be thinned out, there will be shakeouts in regional markets.
McKinsey Partner Roger Rudisuli, who co-authored the report, says the change is likely to lead to lower spend on equity research (which is of questionable value), and more money going to banks which can facilitate private meetings with top management and top analysts. Therein, he notes a humorous paradox:
The challenge there will be that the people willing to pay the most will be hedge funds, but the preference for corporates will be to meet with only long-only investors.
The dropoff in research spend is likely to be more acute among the big stocks, which might not be a bad thing:
We have too many voices on large companies anyway. Why does Apple (NASDAQ:AAPL) need 50 to 60 analysts covering them? I'm not sure the bottom half are adding value.
Faced with the need to charge for demonstrable value, investment banks are grappling with issues such as pricing and value-proposition that they have conveniently avoided until now:
Firms are also debating how to price analyst reports, with some firms modeling packages on cable TV subscriptions, running from basic to "all-in" offers, according to the report. Deutsche Bank (NYSE:DB) has pitched clients a metered, "pay as you go" approach whereas JPMorgan Chase (NYSE:JPM) has quoted customers a $50,000 flat fee for basis access to fixed-income analysis, people familiar with the matter have said.
McKinsey says independent research providers will see an increase in demand – if they can step in to provide genuine value. Via pionline:
An increase in independent equity research providers will be one of the main results of MiFID II rules that will require unbundling of research costs from execution, putting those firms in a unique position to establish what those once-opaque costs will be across the investment banking industry going forward… The rise in independent research-only providers will have several benefits that will be passed on to money managers, said report co-author Roger Rudisuli, senior partner at McKinsey, in an interview. They are: a lower cost base vs. large investment banks; a more niche focus on investing that can generate greater alpha for managers than broad-based equity research from bulge-bracket firms; and size that makes them better able to provide research to smaller managers that can't afford the larger banks.

"Hundreds of these research firms exist already," Mr. Rudisuli said. "The bulk of them charge specifically less than the commissions charged by investment banks. Under MiFID II, this will make them more attractive to asset managers and asset owners."
This is good news for the hard-working authors who share their research on Seeking Alpha and other open platforms. Indeed, we have seen a huge spike lately in the number of authors who are building exclusive SA communities centered around their research niche in our Investor Marketplace. Revenue from these private investor services, which was at a run-rate of $3.2M/year when I wrote about it in April, is now at $3.7M. And subscribers seem to love the quality of the product. From recent reviews of one of the Marketplace services:
An invaluable source of investing ideas as well as an early warning system for popular high-yield stocks that have problems… This man can pick apart and mine data like no one I have ever read before… I am a happy subscriber.
I would love to hear your thoughts about the future of investment research, and Seeking Alpha's role in it.